In the Digital Lab, we develop future-proof digital solutions and technology systems for the stationary retail trade. Interdisciplinary teams of technical computer scientists, software developers, designers and product developers design solutions for the future of retail there.

Indoor Tracking
More precision. More possibilities.
Thanks to indoor tracking accurate to the centimetre and second, you can significantly expand your analysis potential and lay the foundation for many other useful applications and services.
Indoor Tracking

Cust Counting
More transparency. More control.
With CustCounting from Geck, you not only control the number of people in your rooms particularly effectively. You receive valuable data and analyses for more efficiency, e.g. in personnel and task planning or advertising impact control.
Cust Counting

The technology of the Geck Suite: Indoor Tracking
More accuracy. More scalability.
Geck's indoor tracking, which is accurate to the centimetre and second, works with numerous ceiling transmitters and compact mobile receiver units. This means it can be adapted to different environments in a highly flexible way and can be expanded at any time at low cost.
The patented sensor technology of Geck Indoor Tracking uses infrared light to determine the exact position of a vehicle. Several times a second, the location of an industrial truck or a shopping trolley, for example, is determined with centimetre precision. The wavelength of the light is invisible to customers or employees.
The ceiling-mounted transmitters communicate directly with the mobile receiver unit. Thanks to its compact design, it can be placed in the handle of a shopping trolley, for example, or at a suitable location on the industrial truck. In the latter, the mobile unit is supplied with power directly via the vehicle battery; installed in a shopping trolley, a Li-Ion battery provides the necessary energy, which is regularly and automatically charged via a special system.
The data collected is aggregated, evaluated and stored centrally. In this way, comparisons of values at different times or over longer periods of time (hours, days, weeks) are possible and provide information about changes. The individual evaluations are displayed graphically in the specially developed dashboard.
Thanks to the individually installable ceiling transmitters and mobile receiver units, the system is scalable and thus enables cost-effective retrofitting in a hall or shop at any time. For more flexibility.
Footpaths
Make walking and driving routes visible. Of individuals or groups. Employees or customers. Vehicles or shopping trolleys. Avoid frustration, disappointment and costs by optimising routes. Raise turnover potentials.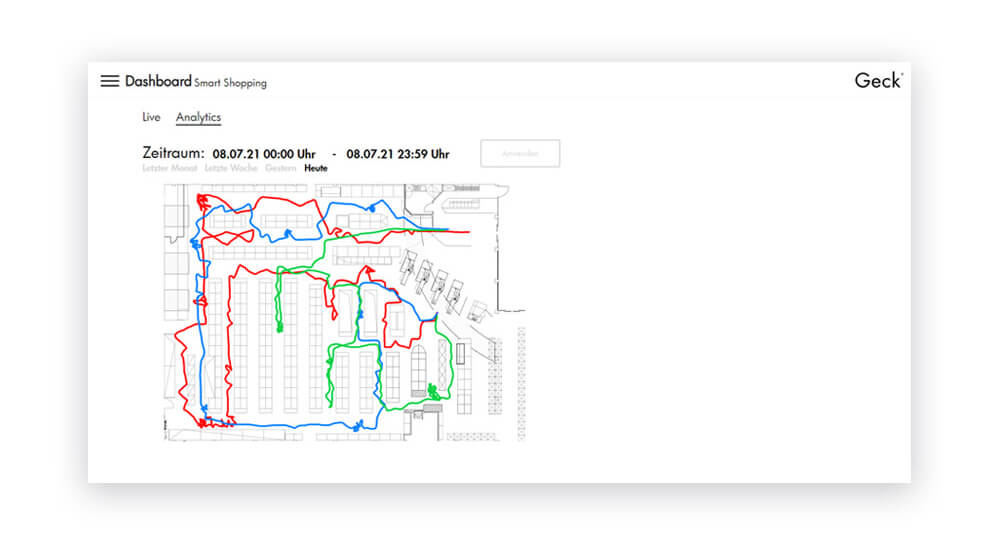 Heatmap
With our heat map you can identify hot and cold spots. You can analyse where there is still potential for optimisation: swap products and shelves or redesign individual areas. Safety-relevant bottlenecks can be defused.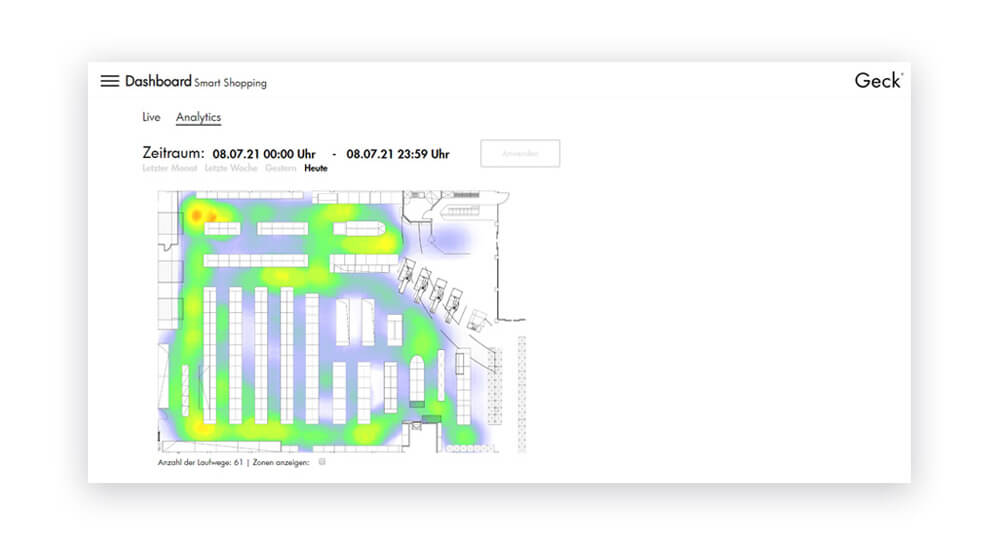 Retention times
Understand your customers' shopping behaviour and the duration of their purchases: When do your customers spend the longest time in your store? At what times are customers in a hurry? Is there any noticeable customer behaviour at certain peak times?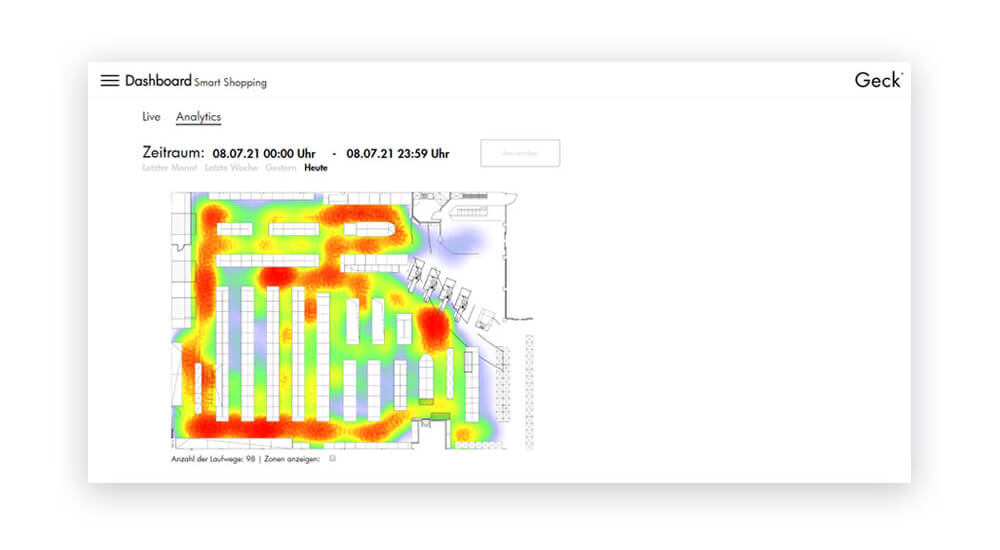 Zone utilisation
Divide your halls or shop into different zones to see which are used most often, which are used the longest and which may not be used at all.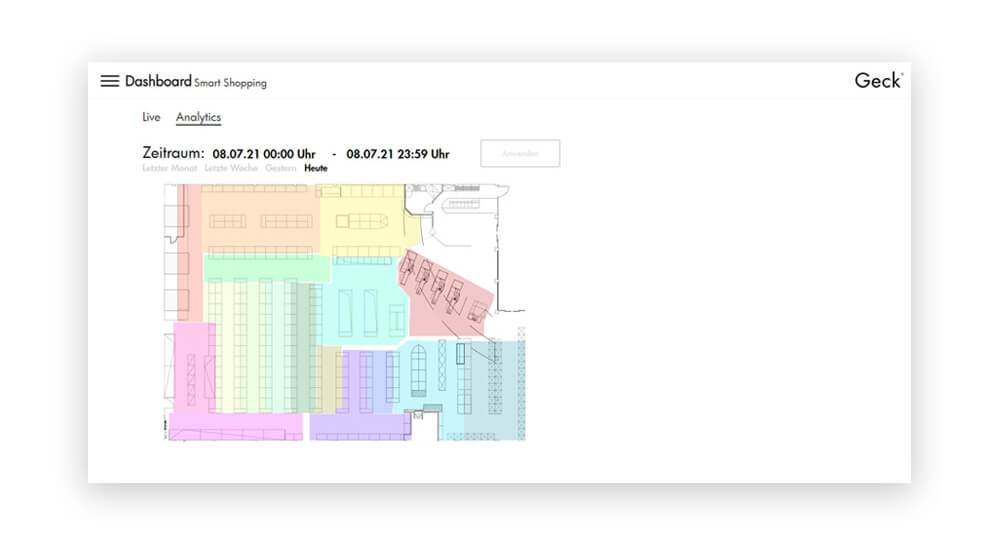 The technology of the Geck Suite: Cust Counting
More top view. More precision.
The CustCounting systems from Geck measure from above and are therefore clearly superior to other systems. They record more accurately and can be perfectly adapted and individualised to the local conditions thanks to numerous accessories and expansion options.
Even if several people pass through the measuring area at the same time, Geck's Cust Counting systems count everything very accurately: small children, animals, shopping trolleys or other objects are recognised as such and not included. This is made possible by measuring with a stereoscopic camera from above. Systems that measure from the side (e.g. light barriers) are significantly less accurate when people pass next to each other or shortly behind each other and are often more susceptible to external influences such as reflections, changing light conditions or backgrounds (walls, ceilings, glass).
Via the dashboard, you carry out the basic configuration; also the sensor settings and entries for individual messages or information (see below). You are guided comfortably through all steps. An analysis tool is also available here for further overviews and evaluations. Predefined graphics inform you clearly about all relevant measurements.
FixedGuard LED
uses a modern LED display and conveys a clear, simple message to your customers and guests: "STOP or GO" or "Please enter" and "Please wait" or another message specified by you. The text elements are produced as desired, and the appearance of the covering can also be customised.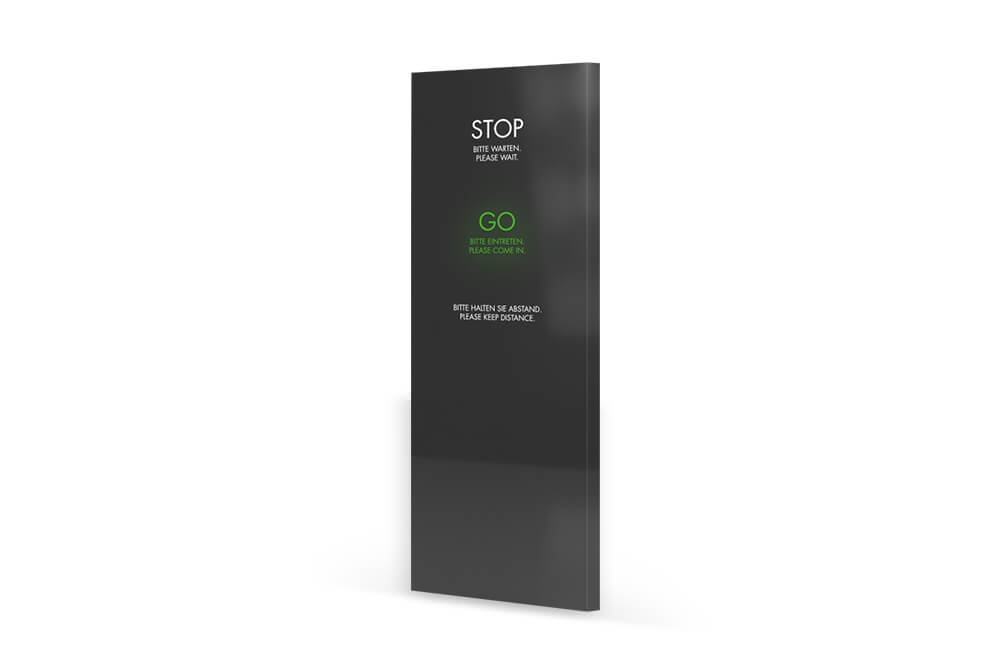 FixedGuard Monitor
high-quality, elegant stand with a high-resolution monitor that displays information relevant to customers, such as the number of people in the premises, overruns of the maximum number and/or estimated waiting times.
The sensors required for measurement are installed in or at the ceiling for this purpose. The set-up is simple, but requires installation by a specialist.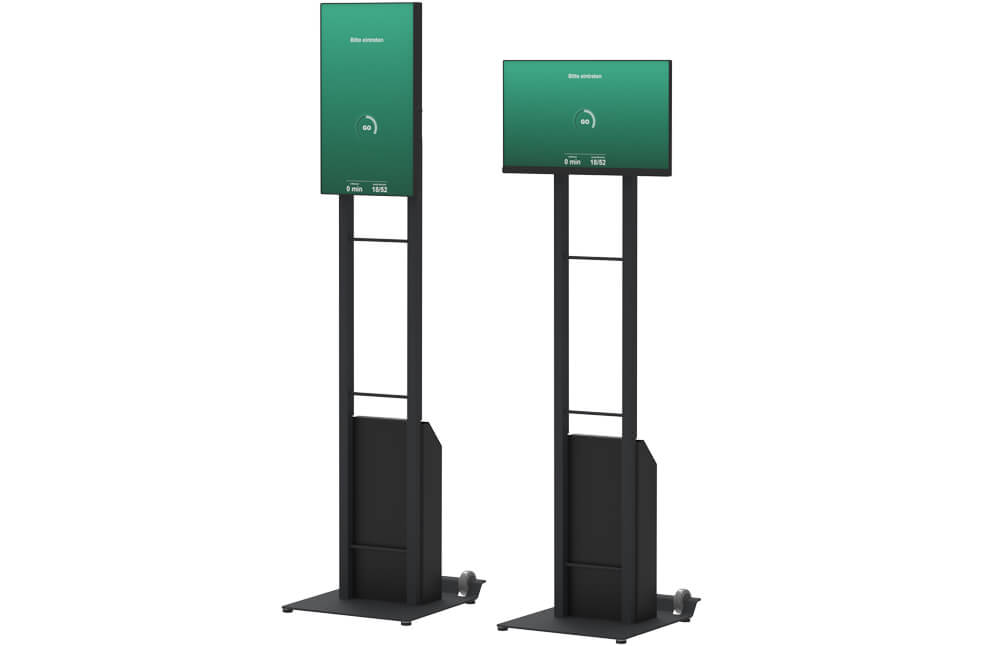 FixedGuard All-In-One
is the fast and/or mobile solution for many occasions. All the necessary components for measuring, recording and displaying flows of people are built into the high-quality and attractively designed stand. Set up. Install. Start!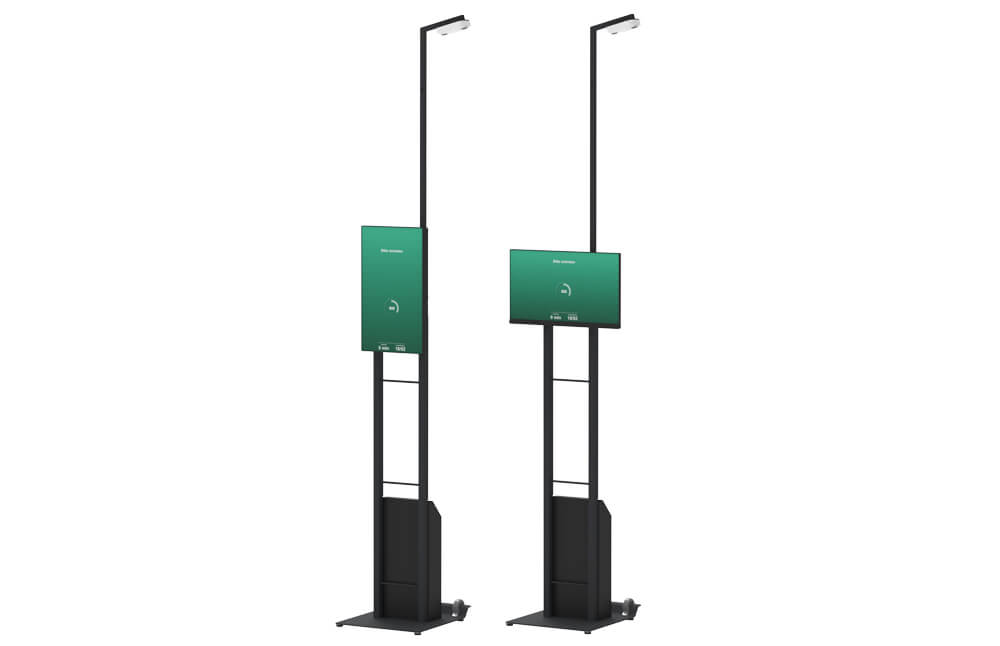 Accessories
With our wide range of accessories, such as ceiling-matching installation elements, various cables, additional camera sets for further inputs and outputs, etc., you can adapt your FixedGuard system even better to your environment and your needs. For more individuality.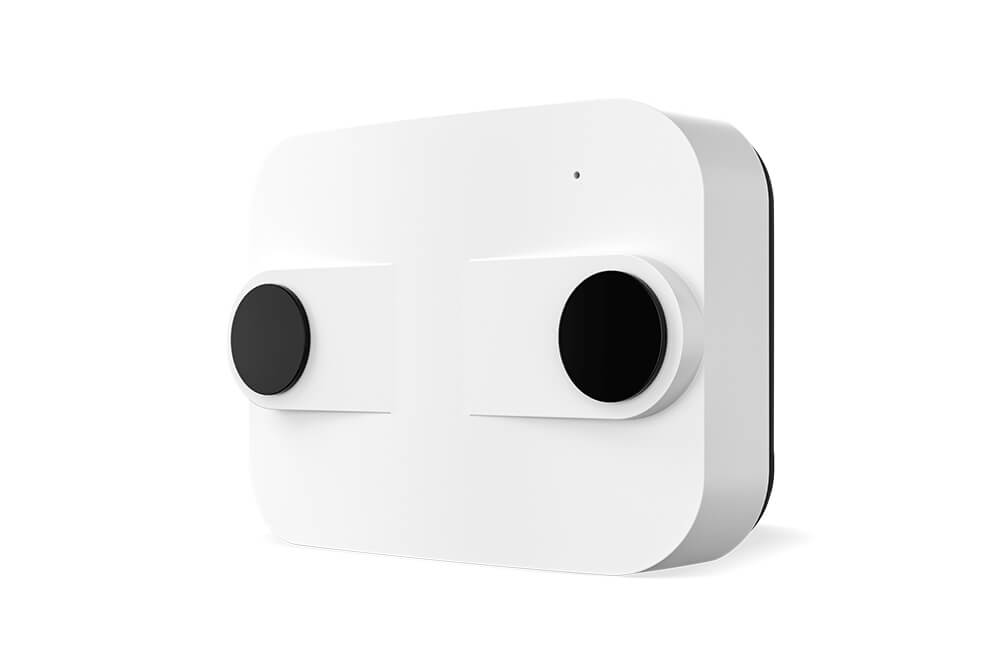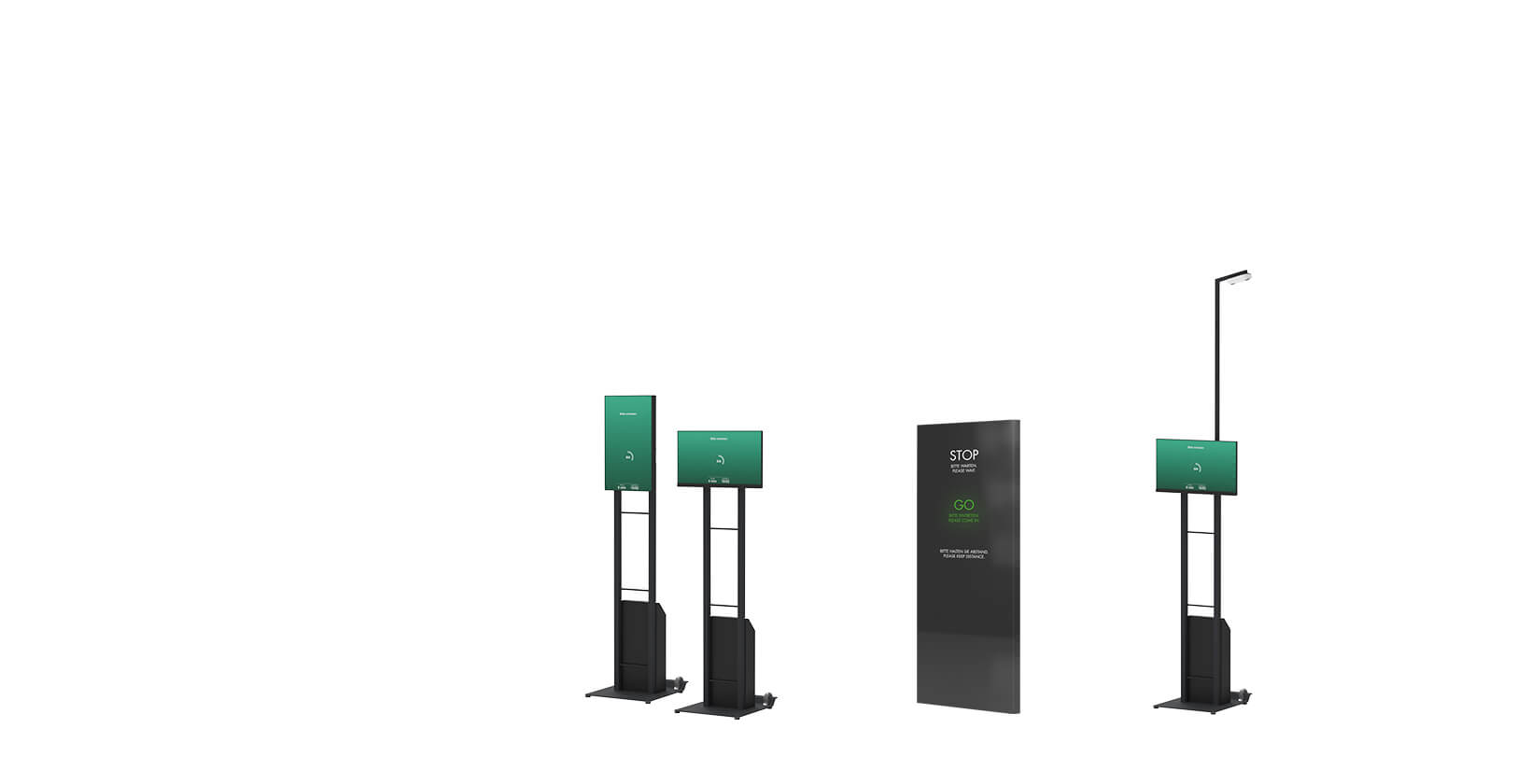 Just ask us.
We will find your individual solution.
Individual advice